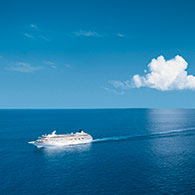 Through our affiliate company -
Marco Polo Travel
- Netmedia invites you to participate in our leisure cruises with a guarantee of unforgettable impressions. Discover the world onboard the best cruise ships, where invaluable experiences wait for you and where you can discover magical corners of our planet.
The experience cannot be compared with a regular trip or vacation. During the cruise, we visit several highly attractive places, and all this without the bothersome packing and moving. In addition to that, countless entertainment, sports, culinary and other attractions during the voyage guarantee you lots of fun and relaxation.
We have an extremely rich offer of leisure cruises - something for everybody. Whether you want to spend an interesting family vacation, a romantic voyage for two, a fun trip with closest friends, an expedition for adrenaline seekers or organize an incentive trip for company employees - we will suit your needs perfectly, and our consultants will help you to choose the best proposal.
Marco Polo Travel guarantees both the best level of service and the best prices on the market. Our unrivalled offer is the effect of direct negotiations with the world's leading shipowners, of which Marco Polo is the official and often exclusive representative in Poland. The booking of cruises is made through the
Rejsy.pl
website.
According to the worldwide opinion of customers, leisure cruises offer an elsewhere unfound level of service and assure the maximum of satisfaction. Marco Polo Travel has the broadest and fullest offer to be found on the Polish market, thus being able to satisfy the needs of customers with different expectations and of diverse financial wealth.
Contact:
st. Woronicza 15
02-625 Warsaw
Phone: (22) 492 77 90
Infoline: 801 08 08 03
E-mail:
rejsy@rejsy.pl