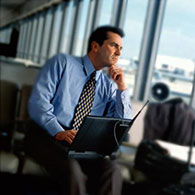 Through Netmedia Business Travel (NBT), our affiliate company, the Netmedia Group leads comprehensive activities in the area of corporate travel. NBT specializes in Travel Management, ensuring to our customers the optimization of business travel costs, as well as comprehensive and professional service with the use of highly modern tools. The aim of NBT is to deliver services of the best quality and to optimize travel expenses. Thanks to systematic employee training and technological development, NBT comprehensively and constantly guarantees service of the highest level, in accordance with international standards.
Netmedia Business Travel is a founding member of the Lufthansa City Center Group Poland, a network of travel agencies operating in Poland's biggest cities. The network currently associates 16 travel agencies. Lufthansa City Center is a synonym of international quality standards and professionalism o service, as well as orientation on the corporate customer.
NBT is responsible for the service and maintenance of our independently developed reservation system for customer use - Corporate Travel Assistant (CTA). It is a modern booking platform, accessible 24 hours a day, which allows registered users to manage business travels, including the monitoring of reservations made, operations on particular orders and generationg reports for realized services.
CTA also gives the customers access to attractive offers inaccessible to individual users, as e.g. special prices, super offers, last minute, weekend prices, corporate rates (including corporate rates individually negotiated by the customer).
We optimize expenses concerning:
booking of hotel stays in Poland and the world
booking of airline tickets
booking of train tickets
organization of MICE events
car rental
visa mediation
VIP travel services
all other additional individually tailored services